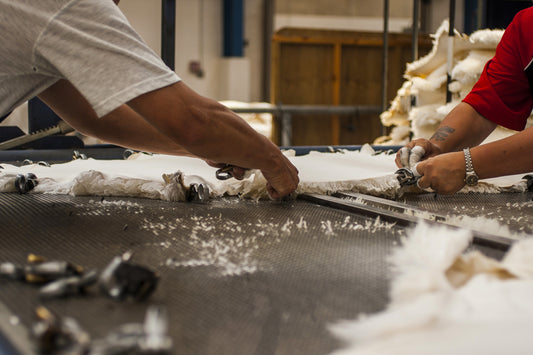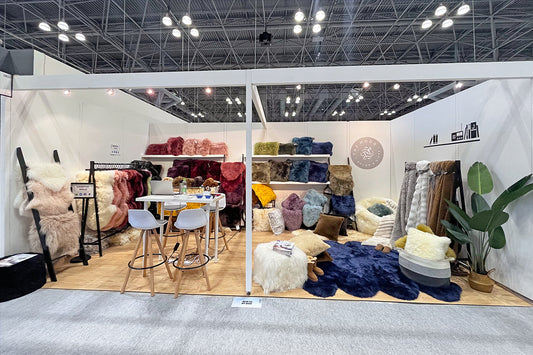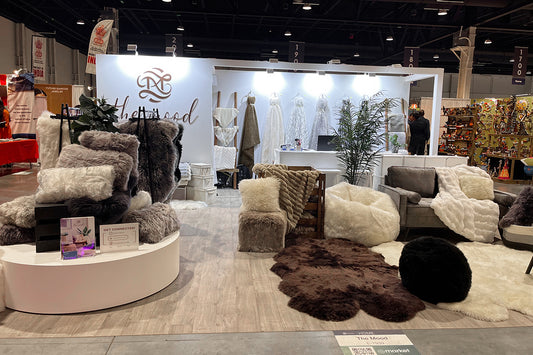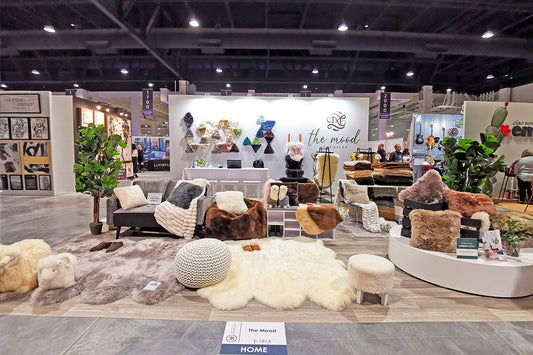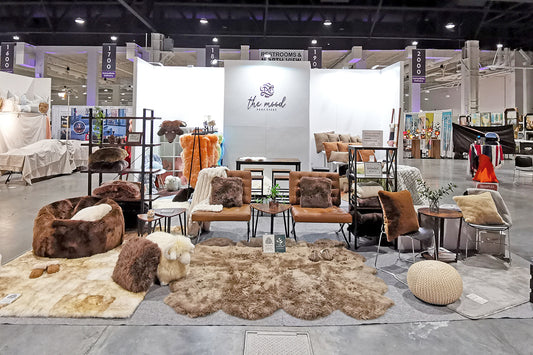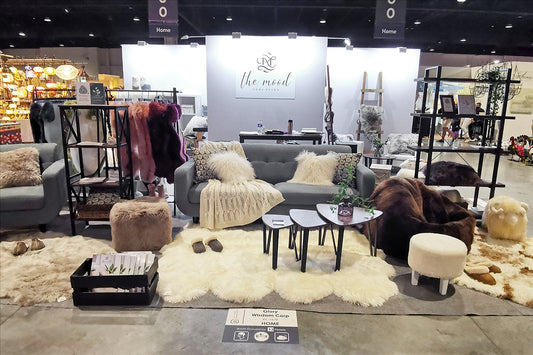 Las Vegas Market Summer 2021 Recap: Welcoming the Revived Spirit
As the pandemic restrictions were lifted, this summer market welcomed a surge of visitors, breathing life back into the bustling trade show. The market was abuzz with industry professionals, buyers, and visitors eager to explore the latest trends and innovations in home decor and furnishings. As our company embraced the opportunity to reconnect with old clients and forge new connections, it became evident that the market was indeed back in full swing.
Introducing Our Sherpa Faux Fur Collection
Once again, with our 400sqft booth located in the brand new building, The Expo, numbered as E-1813, we showcased our latest Sherpa Faux Fur Collection and the ever-popular Rex Faux Fur Collection of pillows and rugs.
Drawing inspiration from the breathtaking beauty of the curly short hair sheepskin, our Sherpa Faux Fur Collection of pillows and rugs was a highlight of the market. The collection featured a harmonious blend of texture and comfort, with each piece exuding warmth and sophistication.
As much-loved as ever, our Rex Faux Fur Collection continued to captivate buyers with its timeless charm. Known for its ultra softness and affordability, the collection boasted an array of elegant pillows and rugs, enhancing the ambiance of any living space.
The Kid's Zone: A Colorful Delight
Our commitment to catering to all generations was evident through the Kid's Zone at our booth. Featuring a delightful array of kids' pillows and rugs, the vibrant colors and whimsical designs attracted young families and interior decorators alike. The playful and cozy creations were a hit among buyers seeking to add a touch of joy and charm to children's bedrooms and play areas.
Connecting with New Customers
Las Vegas Market has always been providing an excellent platform for us to meet and connect with numerous new customers. The footfall of enthusiastic visitors at our booth allowed us to showcase our products to a diverse audience, creating valuable business connections and prospects for future collaborations. The overwhelming response to our offerings further fueled our passion to craft exceptional home products for our clientele.
With a constant stream of interested buyers and retailers, our team was kept busy writing wholesale orders throughout the show. The demand for our Sherpa and Rex Faux Fur Collections, coupled with the allure of our sheepskin products from Australia and New Zealand, translated into a fruitful market experience. The overwhelming support from our partners reinforced our belief in delivering premium-quality and innovative home textile solutions.
Looking Ahead: Las Vegas Market 2022
As the curtains closed on the Las Vegas Market Summer 2021, we eagerly look forward to the next chapter. With immense pleasure, we announce our participation in the Las Vegas Market Winter 2022, where we hope to unveil even more remarkable products and designs.
We invite all our well-wishers and potential clients to visit our booth and witness our latest offerings firsthand. Be sure to drop by our booth in Las Vegas Market Winter 2022 to meet our lovable plush toy "Sheepalicious" and say hello!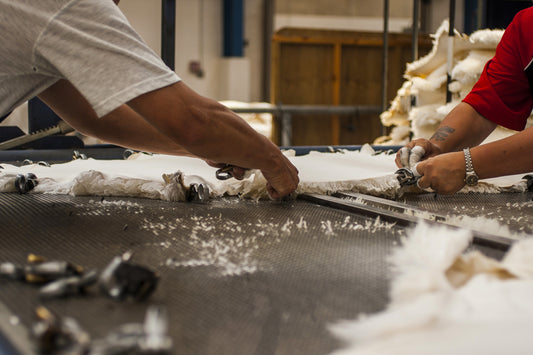 At The Mood, we are committed to the ethical sourcing of sheep and cow hides...
Our 1st participation in Atlanta Market was a whirlwind of excitement and innovation for our...
At The Mood, we prioritize the safety and well-being of our customers while upholding our...